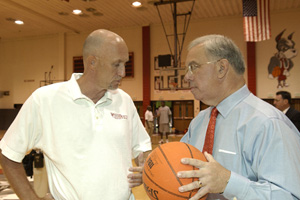 It was Wednesday, March 11
th
around 5 pm. I was sitting in my car in the parking lot of the
Wachovia
Center. I was a little distraught after watching the BU women's lacrosse team get handled with relative ease by Penn at Franklin Field - but I had made a prior commitment to go to the 76
ers
game that evening.
I didn't want to drive all the way home for literally like half an hour of time killing, so I just went early to the game. With that time to kill I whipped out my
iPod
Touch (greatest Christmas gift ever, thanks
Mom and Dad
Santa) to see what I had missed on the
internet
in the last three hours.
Checked ESPN - nothing new, checked my
Facebook
- nothing new, checked the
Basketball Forum
and unofficial home for America East basketball discussion - first thread titled: WOW!!! DENNIS WOLFF GONE! The first poster posted a link to
THIS
.
The reaction I had kind of sent my whole body backwards into the driver's seat, including my head. I'm pretty sure I said, "holy hell," I mean, I nearly dropped my
iTouch
, but it was all kind of a blur. Could this be real?
I was full of emotion, wonder, and complete surprise. I immediately
texted
all my friends who are supporters of BU basketball - those who had gone to Albany.
The reactions I got were all kind of similar. First, "are you f*
cking
with me?" After my response of "No," it would be something like, "wow," or "o sh*t." Some were "about damn time."
Regardless, I don't think anyone saw this coming.
It's ironic that the night before all this happened I did some heavy research to get to the bottom of Wolff's contract, to which I found it lasted until the 2013-14 season. That would be 5 more seasons.
I thought that if Wolff was going to be fired the athletic department would at least give him one more shot with this class of to-be seniors - he brought them in, he's been with them all three years, and if there was going to be a year that BU would definitely win it, ideally it would be next year.
That's not so.
Now time for my opinion: for the entire season I had withheld comment on the issue of Dennis Wolff as the Boston University basketball coach. In part I didn't say anything because I was asked not to. I was asked after the
UVM
loss, in a period where BU had lost 6 of it's last 7 games, and in a time where a lot of people who comment on this blog and the
BU Hoops blog
were calling for Wolff's job.
At the time I thought it was unfair that I wasn't going to be allowed to speak my mind, but at the same time, I didn't know what internal issues were going on in the athletic department - I didn't know what they knew that I didn't. I let it be and let the season go on and end, once in again, in underachievement and disappointment.
Every media outlet that has had a write up about the firing generally vilify the school and paints Wolff in a positive light. Yes, Wolff was the
winningest
coach at BU with 247 wins, but if you let Jarvis or
Pitino
coach here for 15 years, like Wolff, they would have eclipsed that 247 win mark with ease. Each article draws attention to the conference record of 11-5 and to most outsiders, they'll question the firing.
I don't question the move, and anyone who avidly follows this program won't either - the BU basketball program had come to a standstill with Wolff as coach. Year after year the team had underachieved, interest among students and alumni had dwindled to almost nothing, and with all the advantages of Boston University (academics, location, student-life) the team should have been recruiting and putting together the strongest team in the conference year after year. I mean, in almost every other sport at this school BU dominates the America East, and the coaches consistently win COY honors, and they win
AE
titles.
It wasn't happening under Wolff and Athletic Director Mike Lynch was well aware. In the last four years the team under Wolff was 55-64, with only one winning season. BU didn't want to take a chance at another 5 years like this.
Wolff was never a player's coach or even a fan's coach, and for the last five years it seemed like his recruitment focused more on preserving his son's playing time than helping the team out.
For example very few players were recruited to play over Matt Wolff. And those who were here, who played Matt Wolff's position, eventually left for
UMass
(Etienne
Brower
, Tony
Gaffney
). Each became prominent forces on that team. All in all he scared off a lot of players he brought in. One of which: Will
Creekmore
. Apparently he was kind of happy with the firing as his
Facebook
status updated about 2 hours after the initial announcement:
Don't get me wrong, I think Matt Wolff played a good role on the team - he defended great, he dished, he rebounded, but he wasn't a scorer and everyone knew this - fans, players, and coaches alike. I think everyone also knew he probably shouldn't have been getting 35 minutes a game.
In regards to being a fan's coach - for my first two years of following this team after every win Jesus and I would run out to the hallway at the Roof and go for high-fives from the players and coaches. It was few and far between that Wolff would extend his hand - win or lose he would always put his head down and walked straight towards the locker room. He wouldn't speak or show any emotion - he just booked it. I understand that's his style, but it's not a style that will keep people coming to games. It's not a style that resonated with students or alumni.
So this team goes from having two Wolff's to having none. A lot of people are happy about this, and I believe it's the best move for the program. Obviously Athletics did too.
BU has a vision for the basketball program, and there's no reason why it can't become a big time force in the America East. BU should really be playing most of it's games in
Agganis
(
despite my theory that they're worse as a team playing there
), and hopefully under new coaching and new basketball operations the team will. It's the only way to make this program "big-time."
The only thing that I'm hesitant about in this change in coaching personal is that new recruit:
BJ
Bailey. He was a solid recruitment by Wolff, but now
he's having doubts
- as he should. Furthermore, what will happen with a new coach with such senior players? Will there be any clash of ideas/
gameplans
? Who the hell knows?
The
bottomline
is this team will be alright. They'll be just fine. No matter how old or young the coach is they'll be fine. Don't get me wrong, I have partial concern that all of a sudden John Holland might get up and transfer to a bigger basketball school, or we'll lose our recruits, but I believe by November we'll be fine.
This basketball program needed new life. Wolff was a great coach for 15 years, but across all sports coaching is becoming more and more of a
what have you done for me lately?
job. Lately Wolff had underachieved - BU is fortunate to have an athletic director who has a good vision and idea of what he wants - to win titles. It hadn't been done at BU since 2002 and that's too long.
All I want is an America East conference championship. That's all the players want, that's all Mike Lynch wants. It needs to happen relatively quickly with this new coach, whoever it will be.
I'll say it again - this is best for the program. There are plenty of coaching options, and plenty of coaches who will look at the lineup of Corey Lowe, John Holland, Jake O'Brien, Carlos Strong, Scott
Brittain
, Tyler Morris, even
Valdas
Sirutis
, and the potential of
BJ
Bailey and see the promise of
basketabll
at BU. I wish no ill will towards Wolff. I want the best for this basketball program and I think they're heading in the right direction.
All I want to know is if AD Mike Lynch has made the call to Bob Knight yet? I'll do what I have to in order to get him here (he's only 98 wins away from 1,000 - that's like 5 seasons in The Hub).
To close I'm going to link you to an article that was written in 2006, published in
The Daily Free Press
by a sports columnist at the time, Joe Rouse. He wrote that he thought it was time BU and Wolff parted ways. If you notice, a lot of the stats and things he mentions haven't changed since 3 years ago.
Joe Rouse: Time may be right for BU and coach Wolff to go separate ways.
Feel free to discuss, and suggest who you want to see on
BU's
sideline next year.