Last year there were very few weekends during the hockey season where I couldn't help smiling. This year, in the first week, I'm already wearing a cheek-to-cheek grin.
This was one of, if not the best weekends for me in regards to Terrier sports. Awesome. So awesome. Let me explain why:
On Friday night I received a phone call from someone inviting Jesus and I to the Agganis Arena Premium Guest Reception and Dinner. All I expected was a reception of some sort and free dinner in Agganis Arena. I got to dress up real fancy like I'm important so I was already happy. My expectations were crushed.
Jesus and I met other active members of the Dog Pound and Dean Elmore outside Agganis Arena at 5 pm. We all went in together and walked down the concourse to the area behind 118. There I found this:
Someone either spent a lot of time setting it up or got lazy and just dumped out all the cheese, crackers, and veggies all over the table. Regardless, Jesus and I each got ourselves a plate full of finger foods and a free glass of Dr. Pepper, served in actual glass at Agganis (OMG) and sat down in section 118.
We got to witness something I thought I would never see - a Terrier hockey practice. Not just that, it was the first official practice of the year. From what Jesus and I observed we were convinced that Adam Krause was the starter. It seemed like he was getting the most action and work. We would later find out the truth (Krause wasn't the starter).
The team did a lot of scenario play. They then did a couple different style shoot outs, followed by some stretching and team huddles, and then some helmet-less shooting from like 7 feet away from each goal.
The players weren't wearing jerseys with numbers so all Jesus and I relied on were the near microscopic numbers on the back of each players helmet. It didn't help we weren't positive on what freshmen was what number. For instance, we thought that Vinny Saponari was Andrew Glass. The reason - he looks like an Andrew Glass.
He certainly doesn't look like a Vinny.
One thing we still don't know - some players were wearing white jerseys, others red. And even others were wearing blue. Goalies were all in blue as was one other player. I won't loose any sleep over not knowing, but having that explained would ease my racing mind.

At like 6:30 we were ushered into the back dinning area behind section 108. It was pretty nice. And by pretty nice I mean overly nice for me.
And some dessert that I decided to save for later.
Dinner was lavish - lobster bisque, spinach+tomatoes, sweet potatoes, string beans, chicken, sausage pasta, and some more.
Jim Prior pretty much MC-ed the event. Prior is the PA announcer for BU. I had met him before, but the others didn't know who he was. He spoke and they immediately figured it out. It's voices like that that make me want to take on aggressive cigarette and cigar smoking.
Once everyone in the room got their dinners he took the podium. He kind of jokingly spoke about how if any refs drop the puck before he finishes saying "Let's Play Hockey," he makes sure they don't work the Beanpot. That man knows how to hold a grudge.
He introduced Athletic Director Mike Lynch who thanked everyone for their continued support while talking up Agganis Arena and the hockey program, as he should've. The hockey program is obviously high on a pedistal at Boston University, as it should be - it's the only Terrier sport to win a national championship. Until that changes hockey will dominate the minds, goals, and ideas of not only the athletic department, but the entire school.
Parker took the podium next. He basically disected the team and answered any question anyone might have had. He talked about the disappointment that was last year, and recognized that it was indeed an Epic Fail. He discussed the goalie situation and explained how at the time Milan had the slight edge over Rollheiser.
Coach Parker was convinced that Wilson was going to leave after last year. He seemed overjoyed to have him and Gilroy back, as he should be.
While he was speaking I realized what a legend this man is. He has been here 36 years?! That's way longer than I've even been alive. He's seem some sh*t, I'm sure of that, and each year he comes back for more. Will this man ever stop coaching? I wouldn't really mind if the answer was "no."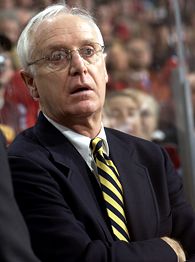 After he spoke the dinner/reception was pretty much over. All the premium guests who I had never seen/talked to before socialized among one other. Dean Elmore gathered us students in attendance with Coach Parker and AD Mike Lynch. Originally I was standing right next to Parker in the picture, but Mike Lynch somehow squeezed me to the left of him. It's alright, Mike - I don't hold grudges like Jim Prior.
After the picture Parker made a quick exit. He did shake my hand, and Jesus' and said something to the extent of - "you do more than you think for this program." Those words made me feel great. Despite what any hater might say, to hear that from the head coach of one of the most storied college hockey programs in the nation is comforting.
And Dean Elmore is the man. Simply put, he knows whatsup. This school is so lucky to get to have both these men - Parker and Elmore. I really believe Dean Elmore is one of the best dean's in the country because he actually cares about the students - he wants cool stuff for them, he wants them to have so much fun here, he wants everyone to love the school as much as him. I can't say much more other than that - appreciate having Elmore. He's one of the few school administrators I've ever met who actually gets what students want and will do whatever he can to make everyone here happy.
Anyways, all this led into Sunday's exhibition game...I'll talk about the game tomorrow.